Fresh, delicious, locally grown food from our farm to your table…
We're continually working with lots of heirloom and improved varieties here seeing which ones are good, which are great, and shelving some that just don't meet expectations.
Speaking of expectations – taste and texture are king around here but we also know it's important to ensure there's enough to go around.  With that said our crop plans and planting schedules are built with community in mind – great varieties and more than enough for share members, family, friends, and markets.
What's in a share?
Well, the short answer is – A weekly RedCrate of goodness!
The better answer is – Each week CSA share members will receive a box filled with fresh vegetables, fruits, and herbs grown locally right here on our farm.  Everything in your share is grown sustainably using only organic practices.  In the box you'll find 6-10 freshly harvested, in-season varieties selected as the best of what's around in any given week.  We grow about 120 varieties here at the Crate, about 50 of which are selected for volume planting, so you'll always have a great selection of tastes coming your way.
Each week, before pick-up, we'll try to let you know what the weeks share may consist of, maybe offer up a recipe or two (courtesy of a couple of chef friends we have and the culinary artists among y'all), and let you know about other events at the farm or around town.  We'll also post a picture or two in the CSA blog area so you can see just what you're in for each week and comment and connect with other CSA members if you like.
Members will also get a few extras like:
Special pricing on additional bulk heirloom fruits and veggies for canning or making jellies, salsas, sauces and other good stuff
Notification of availability and specials on awesome eggs – the best for baking and plain delicious on their own
Deals on, ever so chic, RedCrate merch (we do love us some t-shirts around here)
An open invitation to the farm where you can meet some new friends, enjoy camping in the pasture, put a hoe in the ground, maybe pick some fresh food, and have a bon fire!
So what exactly is a CSA?
A Community Supported Agriculture program is a direct partnership between you and the farm.
As best we can tell, the idea originated years ago in Japan when a group of moms got together and approached local farmers with their concerns about an increase in the rise of non-local food, the loss of farm land, and the younger generation(s) giving up farming as a life choice and moving off to the city.  They created a relationship and developed a direct delivery method with their farmers which eliminated their reliance on, and lack of selection from, the conventional market.  The idea caught on in Europe shortly thereafter and some cool German dude brought the concept to the United States in the mid-eighties.
Wiki says...
"CSAs generally focus on the production of high quality foods for a local community, often using organic or biodynamic farming methods, and a shared risk membership–marketing structure. This kind of farming operates with a much greater degree of involvement of consumers and other stakeholders than usual — resulting in a stronger consumer-producer relationship. The core design includes developing a cohesive consumer group that is willing to fund a whole season's budget in order to get quality foods."
Members pay in advance of a season for a share of the next harvest and are ensured high quality, local produce and the farm gets some working capital to pull it all off for them – buying seed and soil amendments, fixing broken tools, hiring additional labor, etc.  The best part for us though?  We get to know you, our members, and be directly connected so that together we can all grow and enjoy!
How much does a share cost?
A share costs $32 per week for returning members and $35 per week for first time/new members (the extra few dollars for new members covers the cost of your very own, very awesome red crate).  So the total cost to participate in an 8-week season works out to $256 and $280 respectively.  This price covers your produce, delivery to a community pick-up site near you, and any other related operational costs.
How long is a season?
We aren't a year 'round operation as of yet so the number of weeks in each membership season may vary a bit with variety selection and planting/harvest schedules.  We'll keep seasonal info up to date on the blog but we're also happy to go over all the details with you directly when you want to sign up – be it for current season or the upcoming ones.
Where are the community pick-up locations?
During each season we'll work out community pick-up points convenient to our members.  For the Spring season of '14, we're finalizing logistics right now and will post here as soon as we can confirm – please check back often as we confirm additional times/locations or give us a call!
Spring '14 community pick-up locations/times:
Saturday: 10:00am-2:00pm, RedCrateFarm and D&D Feed and Seed – Daingerfield, TX
Sunday: 3:00-4:30pm, The Life House – 506 N Goliad, Rockwall, TX
Monday: 5:15-6:00pm, Matador Meat & Wine – 8200 Preston Rd, Plano, TX
Monday: 6:30-7:15pm, Local Yocal Farm to Market – 213 Tennessee St, McKinney, TX
More TBA…
What happens if I can't make a pick-up date/time?
Just give us a call by 11:00 the day before your scheduled pick-up and we can move your share to another day/location if convenient for you.  If another day/location is still inconvenient, we'll try to work something out for either the next week's pick-up or for something special during the season.  All we ask is that you let us know as soon as possible in advance.
Since your share is picked fresh, and is perishable, any share not collected by the end of a community delivery day (presuming you didn't have a chance to let us know) will be donated to a local organization.  Unfortunately, we cannot replace shares resulting from truly missed pick-ups.
Can I cancel my share membership? 
Of course.  You may cancel your membership at anytime, for any reason.  However, if you choose to cancel your membership, we cannot offer a refund for shares already paid for.  We can offer a gift certificate for the remainder of your share that you can give as a gift or set up a donation to one of many local charitable organizations that accept fresh produce.
In a CSA, members are true farm partners, sharing the risks and rewards of each season's harvest.  The RedCrate CSA program ensures our commitment to each share member, helps sustain and grow the farm, and supports our local communities.  If you're uncertain whether a CSA is right for you we suggest you consider how much you like to cook, whether you're okay with truly seasonal produce, and if you're comfortable with the seasonal risk associated with pest or weather pressure.  Better yet, just give us a call so we chat!  We're happy to answer any questions about the farm, the program, or our policies.
I want to join the CSA!  How do I pay?
Well, welcome!  You can use the sign-up form here, send us an email, or just give us a call to let us know you're interested.  We'll get introduced and talk about what's available, the season ahead, how to purchase your share, and all that good stuff…
Our philosophy here is to do our very best to never over-promise or under-deliver.  With that in mind we've taken a very clear path to build this program and our little farmstead – beginning slowly, observing everything, trying out a ton of different varieties, analyzing quality, tweaking and adjusting so we know what works well.  Then, and only then, expanding infrastructure and production.
What does all that mean?  Well, it means that the RedCrate CSA is a much-planned effort.  While we'd like to welcome as many members as are interested, we do have a limited number of shares available each season.  Rest assured that we'll be expanding but it's important that we talk, before sending a payment, to ensure that we have enough shares available for the season you want.
Whew… If everything sounds good, you can pay securely with a credit or debit card, meet up with us around town, or just send a check to the farm.
Can I join the CSA but donate my share to a local charity?
A very resounding, Yes.
One of the coolest things that's happened in building this program is that we found this question is asked often.  Everyday people who want wholesome, sustainable food and want just as much to offer it to others for a number of reasons.  Maybe that's the real reason CSA programs chose 'share' as the common description..?
Here at the Crate we work with several local organizations in the East texas and Dallas areas and are happy to talk about them with you – but we know there are many, many more out there… Have one in mind?
Please give us a call and we'll see what we can do together!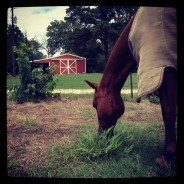 It's almost too crazy to think that we're already wrapped up with the spring season (as of this past weekend) and we're deep into June. Utmost thanks to all of our awesome members who made spring of '14 great!! We're going to take the rest of this week to spend some time with family, maybe fire up the grill, and take at least one full day off.  After that, we'll get some news out to y'all with details of what's happening next… Our thanks again & see you soon!
read more